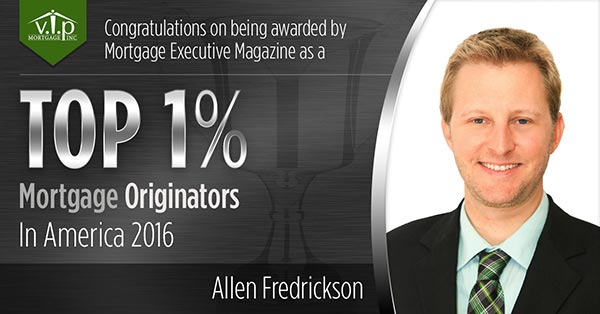 V.I.P Mortgage, Inc., is honored to announce that Allen Frederickson has ranked among the top 1% mortgage originators in the nation, by Mortgage Executive Magazine.
Allen is located at the Scottsdale branch of VIP Mortgage. The key to Frederickson's success is his extraordinary approach to client care as well as strategic thinking and advice based approach to serving clients, Financial Advisors, and Real Estate partners.
"We celebrate the Allen on this exceptional accomplishment," said Jay Barbour, President and Founder of VIP Mortgage. "This achievement is a testament to serving his clientele with heart."
Allen is located at 9221 East Via de Ventura, Scottsdale AZ 85258 and can be reached at 480-719-4396.
Mortgage Executive Magazine features Frederickson in the "Top 1% Mortgage Originators in America 2016."
Categorized in: News, Uncategorized